3 Reasons Why Everybody Needs a Natural Cork Pin-Up Surface!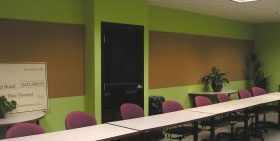 Every home, business, busy professional office, religious institution and school needs a place to keep notes, reminders, updates, mementos or schedules, and natural cork offers many advantages over a write-on wipe-off surface, chalkboard, wall organizer, or a commercial linoleum product promoted as a bulletin board material, because of corks self-healing characteristics, versatility and great appearance.
1) VERSATILITY
Cork comes in a variety of sizes, which is helpful when designing a cork wall or pin-up area.  Cork can be cut or shaped easily with a utility knife, allowing you to customize the area most suitable for your use.  Pre-made bulletin boards are not nearly as versatile, cannot cover a very large area and are more expensive. Use a large cork surface for planning a project and easily reposition your material. Use a smaller cork area for tracking all of your to-do list items, family schedules and activities. Create a keepsake board to commemorate a special occasion or to celebrate a friendship.  For example, cork boards can be filled with photographs, ticket stubs, trinkets, mementos and all sorts of snippets of text making for a wonderfully inexpensive and thoughtful gift for a friend's birthday, a bridal shower or a school graduation. Using a cork pin-up surface is a terrific way to keep track of business cards from your doctor, electrician, plumber, landscaper or other service providers.  Leave the clean outer edge of the cork as is, or if desired, finish it by using a picture frame molding around the edges, or a cove molding, if wall to wall. There is no end to the uses for this versatile product.
2) SUSTAINABILITY
Cork is harvested every 8-10 years from a species of oak tree called Quercus suber L.  A cork tree can have a productive life, reproducing its' cork bark, for 160 to 200 years.  With each harvest, the quality and yield increase, with some trees providing up to 500 pounds of natural cork suitable for wine stoppers, cork soles for shoes, and a variety of other applications.  In addition, reground cork and lower qualities are recycled into a variety of useful products, such as cork flooring, wall covering, cork tackboard material, foot beds for sandals, coasters, trivets and décor items. The American Wildlife Foundation recognizes the importance of this green industry and is a major supporter of cork tree re-plantation.
3) APPEARANCE
Natural cork is much warmer and more appealing than a commercial linoleum product, sold in a variety of colors and referred to as a cork tackboard surface.  Natural cork is a wood product, and can be stained or painted to match any décor. The next time you have a need for a pin-up surface, consider attractive, adaptable natural cork for its sustainability, practicality and good looks