4' X 8' Cork Panels – For Your Home & Office Project

Thinking about creating a full or partial wall of cork or a large
 

cork pin up board?

Great! The  4' x 8' cork roll or cork sheet is the perfect size. The size of these cork panels make it very easy to handle and install.  Your installation can be a DIY project or if you're more comfortable, simply have it installed by professionals. If you are feeling handy and decide to install it yourself, feel free to use our Step By Step Instructions on Installing a Cork Wall.  Keep in mind that based on the standard 8' ceilings found in such a large percentage of homes, the need for cutting is reduced as this size cork matches up perfectly, and the panels seam together perfectly.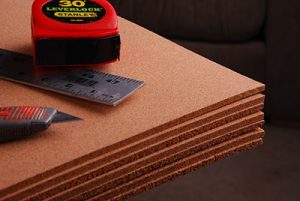 Whether you decide to use the 3/8" thick cork or the new, thicker 1/2" thick cork for your project,  your choice to use the 4' X 8' size is certainly the way to go. There's a very good reason why this size is the most popular!  
Oops, we almost forgot!
Be sure to mount the cork directly to your wall board, or backer board such as Masonite, plywood or fiberboard. These are readily available at Home Depot, Lowes, and local lumber supply.