10 Great Ideas for Installing Cork in Home & Office

Natural cork for decorative and tacking in home and office offers you the best of both worlds.
Cork provides a beautiful background for art, photos,  posters or as a dart board backer in the den. Utilizing space above a desk, inside a kitchen cabinet door, or kids room entry door for pinning, is very practical space to organize notes, invitations and reminders, of all sort.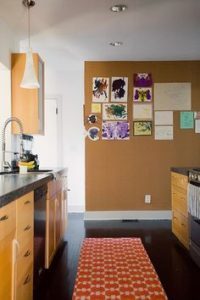 We are pleased to provide you some of the best ideas customers have  shared with us:
(1)  Inside a kitchen cabinet door or on the back-splash (away from sink preferred)
(2)  The inside door panel to kids room
(3)  A full or partial wall of cork in a den or recreation room, kids room, and laundry room
(4)   Above a desk or computer work station
(5)   Inside door panel to utility closet or garage. (or inside wall)
(6)  Wall above work bench or as a surface on work bench table.
(7)  Conference room wall for tacking maps and charts
(8)  Notice area for pinning in community centers and factories.
(9)  Table surface (great for puzzles, crafts, building models, games, cards, sewing, and etc.
(10)  Great as a trivet, hot plate surface, table mat, lining draws
If you have any other ideas we'd love to hear them! Let us know in the comment are below. Also, if you need some guidance on how to install a cork wall, we have some helpful hints in our instructions found here.