Crafts: Ancient Warrior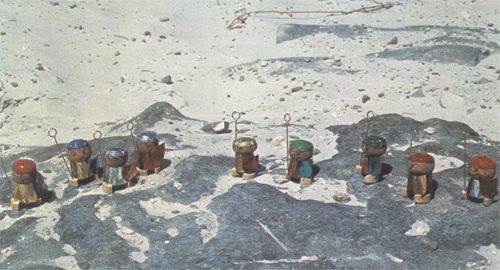 These brave warriors—made from champagne corks—are all ready for battle.
If you collect several corks, you can make a whole army!
Materials
For each warrior you need:
A champagne cork with its metal "cap" for the helmet; if the metal is damaged, use thick pain and colorless nail polish to fix it back and red soft-tip pens
a cork circle
a metal hair pick or skewer
aluminum or copper foil for embossing
some colors to match or contrast the "helmet"; if you only have aluminum foil, inks tint it perfectly
a ball-point pen or grease pencil
a little tracing paper
a sharp knife
scissors that will cut the foil
STEPS
Construction
Draw the face with the soft-tip pens.
Cover the cork with the embossing foil, which you cut out following drawing 1. Glue the 2 ends at the back (see drawing 2).
Draw a simple design on the tracing paper.
When the glue is dry, use the point of the ball-point pen to transfer the design from the tracing paper on the foil (see drawing 3).
Cut the cork circle in half. Glue the two pieces under the body to make the feet (drawing 4).
Cut the shield from foil following drawing 5. Carefully curve it between your fingers.
With the point of the knife, make a slit in the left foot. Stick in the point of the shield (see drawing 4).
Make a hole in the right foot and stick the hair pick or skewer into it (see drawing 4).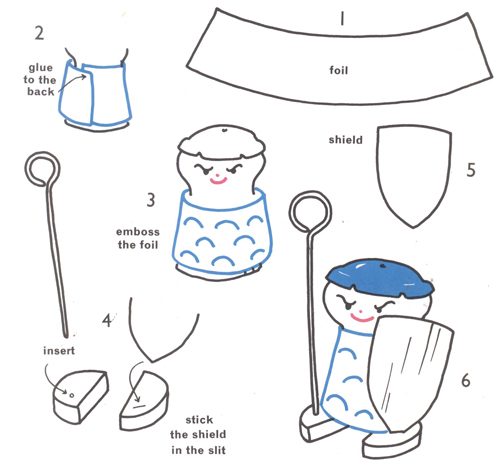 Need help? Please Contact Us
How Can We
Help You Today?