Crafts: Dog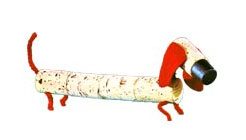 Materials that you will need to make a dog…
4 tall, round corks
a cone-shaped cork
a little cork
a red pipe cleaner
red felt
black gouache paint, shellac
a large needle
scissors
glue
STEP 1
Construction
Paint the little cork with black gouache. Let it dry. Put on a coat of shellac. Let the shellac dry and put on a second coat.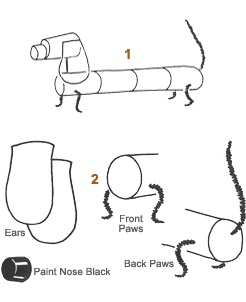 STEP 2
Glue the 4 round corks together.
STEP 3
Put on the legs which are 4 pieces of pipe cleaner each 1 inch (2.5 cm.) long. It is easier to push the pipe cleaner firmly into the cork if you make a hole with the large needle first.
STEP 4
Put on the tail which is 2-1/2 inches (6 cm.) long.
Glue the little black cork nose on the head, which is the cone-shaped cork.
STEP 5
Make the neck from a piece of pipe cleaner and stick it into the head and into the body.
STEP 6
Cut out the ears from red felt and glue them in place (the pattern is in drawing 2).
STEP 7
Bend the legs and tail into natural shapes (see drawing 2)
Need help? Please Contact Us
How Can We
Help You Today?